You have a Commercial Total Gym!
When you determine which commercial wheel you need from the information below, scroll down to the bottom of the page to add the wheels to the shopping cart.
Models of the Total Gym® that fit this category: 2400, 11000, 14000, 24000, 26000, GTS, Westbend Pro, and some others. To determine which wheel you need (Type A, Type B, or Type C) you will need to look at what is stamped on the side of the metal bearing in your current wheel (R4Z or 608Z) and if you have the 608Z bearing you will also need to see how it is installed. This stamp is very small; see this image for an example: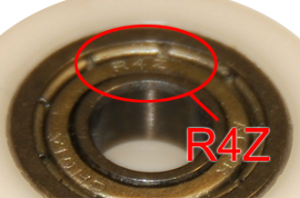 If you need Type A wheels, you may also need new brackets. See descriptions for each product to determine what you need for your Total Gym.
Type A Wheels fit Total Gym Commercial models with wheels that look like these (ignore color) and have R4Z stamped on the metal bearing: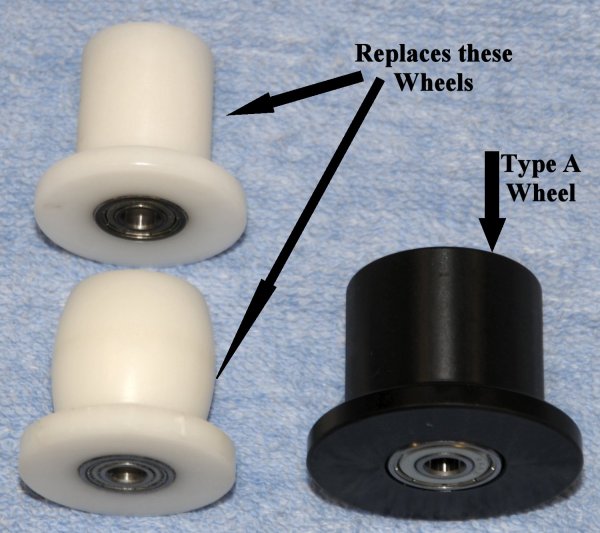 When using the Type A Wheel with the Commercial Wheel long wheel brackets, you may need to slightly bend the tabs to prevent scraping, see picture below:
Type B Wheels fit Total Gym Commercial models with original wheels that look like this wheel below (ignore color), have 608Z stamped on the metal bearing and are mounted in a long channel bracket like the glide-board below:

Type C wheels look similar the original Type B Wheels but are mounted in a cantilevered mount like the picture below:
If you purchase Type A wheels, you MAY need to buy new brackets, depending on the hardware on your glideboard. If you have the long c-shaped rails that run the length of the board like the picture above of the Commercial Wheel Long Wheel Bracket, you will use these wheels without the new brackets, however you may need to bend the tips up slightly with pliers or a wrench, as shown above.
If you need the Type A wheels  with 1/4″ axles and have the wheel assembly bracket in the picture below instead of the long channel bracket (above), the new wheel will not fit in the old bracket. You will need to purchase our new brackets to fit our wheels, because our upgraded wheels are larger in diameter which gives them much more strength. We sell our brackets in sets of 2 and sets of 4.
IF YOU HAVE ANY TROUBLE ORDERING OR HAVE ANY QUESTIONS, PLEASE EITHER EMAIL: sales@huckproducts.com
OR GIVE US A CALL AT:  931-403-5177 (we're on Central time).
KEEP SCROLLING DOWN TO ORDER PARTS
Click Pictures Below To Order And For More Information