Description
About Our Upgraded Wheels for Fast Track 1 & 2
The original Fast Track I and II wheels are molded wheels, but we machine our upgraded wheels from solid engineering plastic. We press two bearings in each wheel for extreme bearing strength and stability. We make a stainless steel stand-off to position the wheel properly and finally we provide an alloy steel mounting bolt and stainless steel lock-nut for installation.  Our wheels are a little larger in diameter so it is necessary to replace all 8 wheels to keep your feet and hips aligned.

Fast Track Installation Notes:
Installation notes from our customer who evaluated our new wheels: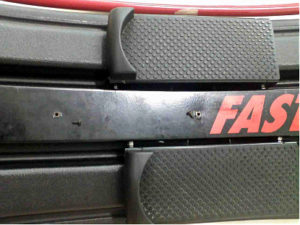 Regarding installation, I removed the three screws on the center platform so that the center decorative metal can be lifted a bit and tilted to one side so as not to jam against the foot assembly's cable catch. The foot assembly has to be in the middle of the groove before installing the wheels. Install the inner wheels first on both foot assemblies before installing the outer wheels otherwise the foot assembly won't nudge back into its proper place. The new wheels are louder but I can tell that the plastic you've used are high-quality and will be durable.